Aircall |

The phone system for scaling businesses
Aircall is an integrated, easy to use, cloud-based phone solution. Its intuitive user interface makes even complex calling setups simple — our focus is on creating a great customer experience.
Get set up, then customise as you go
Create numbers in 100+ countries and begin onboarding teammates from multiple departments by the end of the day. Then adjust your settings whenever business demands — all from the comfort of our web, desktop, or mobile apps.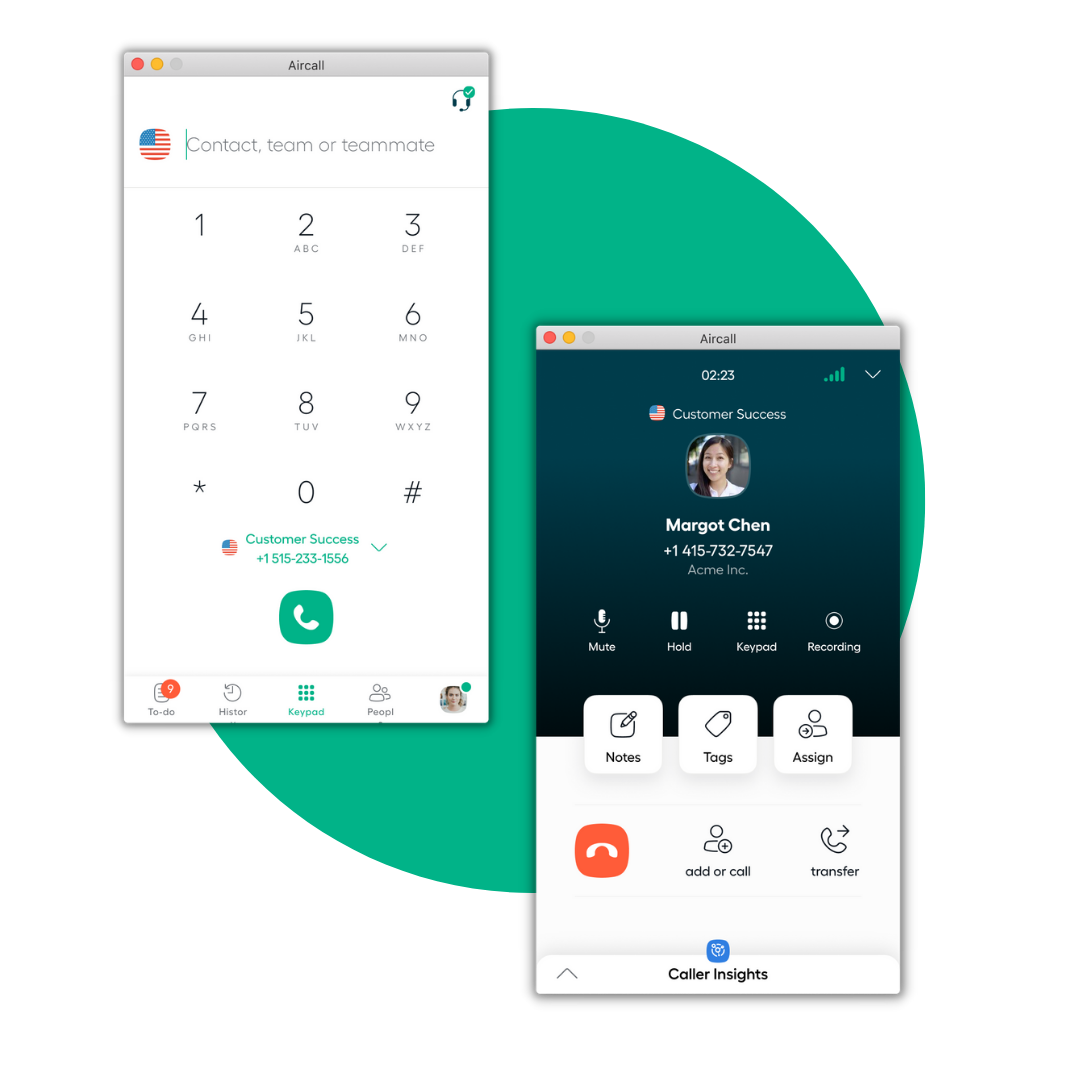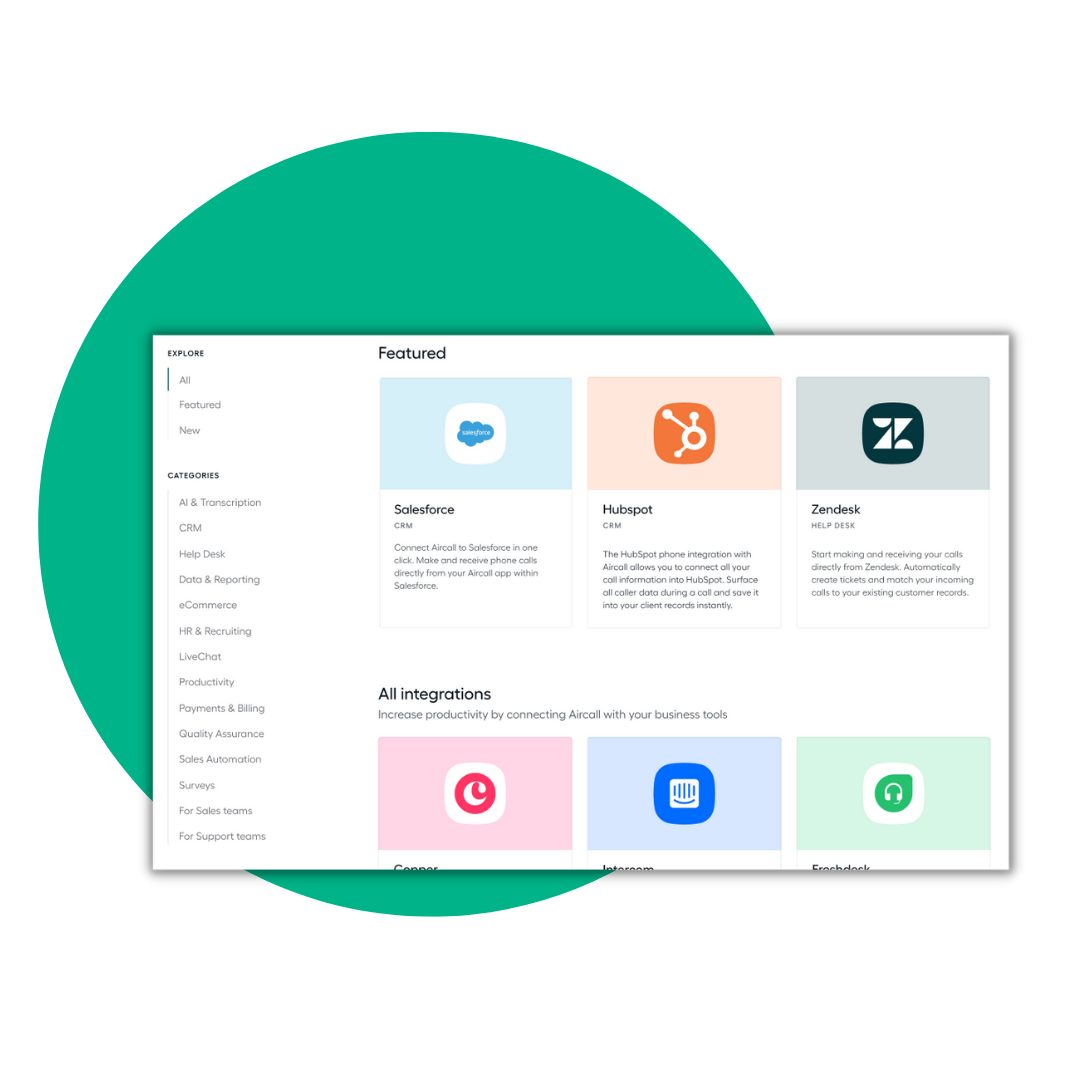 Easily integrate with CRM & Helpdesk
Automatically sync call details to your CRM and Helpdesk to save time and avoid switching back and forth between systems. You'll be able to review call recordings; check the history of each account, lead, or contact; and see full context around every conversation.
Gain visibility into call metrics
See who's on a call and who's available at any moment. Learn why inbound calls are being missed, spot longer-than-usual hold times, and track historical trends to boost both individual and team performance.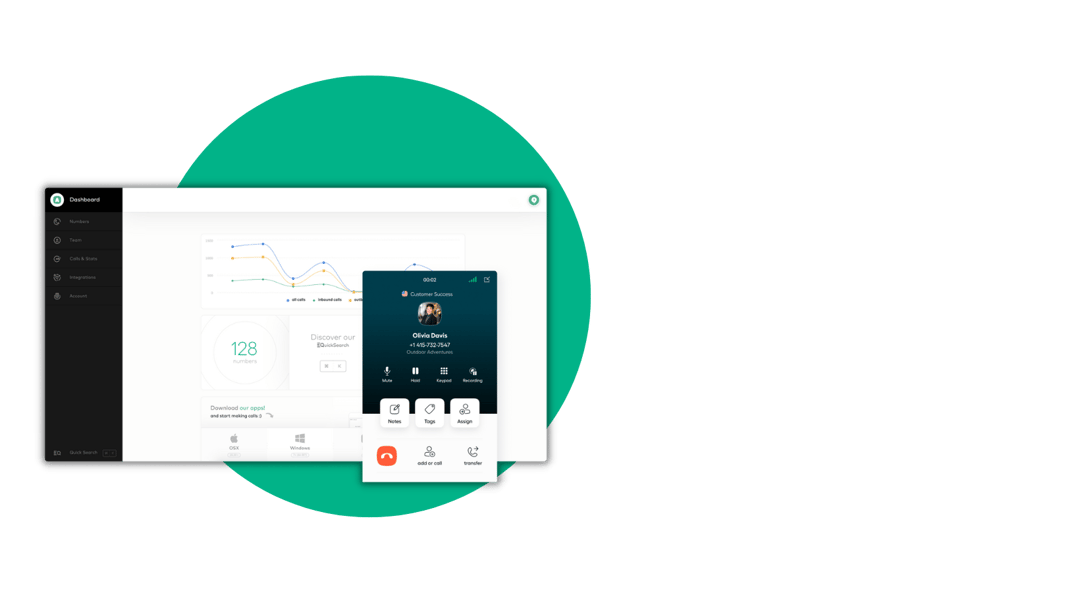 Set up in seconds
No hardware. No headaches. Just a beautiful cloud call center solution you can use to start a conversation anywhere in the world — today.

Connect to your tools
Calls go better when all the right info is tied together in the cloud. Integrate Aircall with CRM systems, Helpdesk solutions, and other essential apps.

Gain visibility
Get rid of the guesswork. Monitor individual and team metrics in real-time to start making measurable improvements.

Enable productivity
Don't put progress on hold. Create new numbers, teams, and workflows on the fly whenever new business requirements arise.
We spent 3 weeks (and countless headaches) trying to set up a phone system from a competitor. After 3 weeks, we still weren't able to make a phone call. The day that I discovered Aircall, I had a functional trial in my hands, was able to make a call on a new phone number, and then had my whole team set up. Very impressed with the service.
The way that Aircall operates has made a huge impact on the way that my team functions. The features in Aircall make is easy for my team to split up into smaller teams within Aircall based on specific topics that our customers have which are allocated to the right agents. Aircall easily integrates with our CRM and their support team has always been reliable. We haven't experienced any dropped calls since launching with Aircall.
Aircall was incredibly fast to implement for my team of 15+ users when the pandemic began and we needed to quickly and efficiently pivot to remote work. In my opinion, the responsive support they provided and the speed with which we were able to get our teams up and running after moving from the office to home for the first time was remarkable. We had both our sales team and our customer service team set up with Aircall accounts on their Macs and mobile devices within 48 hours!
Aircall gives us office functionality without being in the office. We are able to take calls and transfer them with ease. Also, we are able to use our business number so that when we call our customers they see our local business number on their caller ID. Give Aircall a shot. We have loved it and are very happy with our decision.
Want to know more about aircall?
Check out our latest posts